Do you have the NEW GREEN GUEST TAGS?
In May 2022, a new style of Guest Tag was introduced.
Residents are asked to please pick up the new tags at the Beach Club office at their convenience. 
Please continue to use the old version if you do not yet have your new ones.
New Residents: if you receive the old version, please arrange to pick up the new ones.
OLD VERSION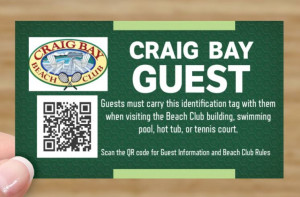 NEW GUEST TAG
Features of the new Guest Tags:
An in-house produced, lightweight laminated card that can be replicated quickly and inexpensively on site.
A luggage tag style that can be attached easily to a gym / pool bag or carried in a pocket.
The numbering system has been replaced with the individual Craig Bay address printed on the card, so that guests can be more easily identified in case of an emergency or incident.
The card also contains a QR code that links to the Beach Club Rules + Regulations, so guests can readily find the rules or be referred to them if necessary.
Each strata unit will be issued TWO green guest tags for their guests to carry with them when using the Beach Club amenities independently (ie. when the Craig Bay host is not present with them).  This includes visits to the clubhouse building, fitness centre, pool + hot tub, and tennis court.
** please note that the Guest Tag does not open the facility doors – the resident must provide their guest with a key fob as well**
It is also VERY important that ALL GUESTS sign in at the Beach Club desk and carry a green guest tag when present without their host member. Please be sure to provide a guest tag to your guests and advise them to sign in.

This policy is outlined in the Beach Club Rules & Regulations:
All Guests use the Beach Club at their own risk.
Guests at the Beach Club must sign the guest register upon each visit and/or time of use.
Guests who fail to sign in may lose their privileges.
Each Strata Unit will be issued two guest tags.
Members may obtain additional temporary guest tags from the Beach Club Office.
Adult guests must have a guest tag in their possession while at the Beach Club.