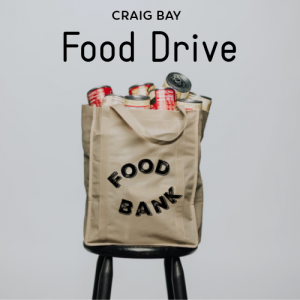 Craig Bay Fall Food Drive Update:
There is nothing like having some fun and raising money at the same time!
My hat is off to those who laughed at the rain and played golf at the Annual Craig Bay Golf Classic! It was done "Covid" style, so not so much mingling, but the result was the BEST EVER! Our Food Drive Committee thanks Dave Montgomery, Phil Howell, Cathy Crozier, Stu Clark and Karen Black. This small group came up big with a donation of $3902 for our Fall Fundraiser.  What a TEE OFF!!
We are so grateful to the following corporate donors who gladly supported our fundraiser:
Proline Management, ILS Landscaping, Zelwood, Caledonia Fire Protection, Susan Forrest, Brenda Nicols, Ocean Liquor Store, QB Memorial Golf Course, Fairwinds, Nanaimo Gold Course, Pheasant Glen and Eaglecrest Golf Course.
As with any kind of event during these challenging times, our Craig Bay Fall Food Drive will be done a little differently but it will go ahead – with the support of our always generous and caring residents.
This Food Drive supports our local Mt Arrowsmith Salvation Army – the group that runs the Parksville Food Bank, the Soup Kitchen, and offers a helping hand to so many in our community.
For over 20 years, the Parksville Volunteer Fire Department has conducted a community-wide food drive on one weekend in November. The volunteers from Bowser, Dashwood, Qualicum Beach, Parksville and Lantzville go door-to-door in their respective communities seeking donations of food and cash. About 8 years ago, we started the "one stop drop" for the Fire Department and now, Craig Bay is the largest donor to their food drive. Last year, it was an incredible honour to present a cheque for $20,559 and food donations of 1800 pounds! To put our donation in perspective, the total amount for the Fire Department was $34,074!
So, 2020!
How to collect when we have no clubhouse to drop off food donations? No Allison at the front desk to collect cheques? (We miss Allison the most!)….
Well, we have a plan – to start on October 1, 2020!
We will have two "drop off" days – Tuesday and Thursday – from 10:00am – 12:00pm. One of the Food Drive Volunteers will be at the Cape Cod entrance to the clubhouse to accept donations of food and cheques (made payable to Mt Arrowsmith Salvation Army). We will tally the weight and do a weekly drop-off to the Food Bank. We will be doing this with as little handling of the donations as possible. The once a week delivery is to help the Food Bank NOW, instead of waiting till the end of November, and also because they have limited volunteers to stock the very empty shelves. Money donations will be presented at the end of October and then again at the end of the Food Drive – usually the 3rd Sunday in November.
What has not changed this year, is the on-going generosity of our residents in Craig Bay.
It may be done differently in the collection process, but we are going to support our local Salvation Army this fall and know that we are helping so many who have been impacted by changes in their lives.
Respectfully submitted by,
Penny Rutherford
Chair: Fall Food Drive Committee