Emergency Assistance Program (EAP)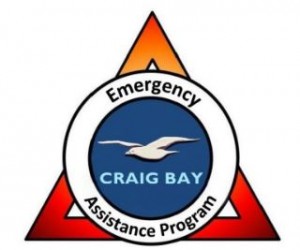 What is EAP?
The Emergency Assistance Program (EAP) was originally created by the Craig Bay Residents Association to help Residents prepare for emergency and disaster situations that could occur in our area.
EAP is now a sub committee of the Community Lands Committee (CLC).
It is organized and staffed by Craig Bay volunteers.
EAP is tasked with helping Craig Bay residents prepare themselves with education, planning protocols and checklists, some volunteer resources and some on-hand, selected though limited, emergency assistance.
Why a Craig Bay Based Emergency Assistance Program?
Craig Bay Estates sits between two primary emergency-response resources (Parksville and Nanaimo). We are separated from those resources by distance and three vulnerable bridges. Those factors could delay the response times and effect overall access to the emergency services that could be needed in Craig Bay during an emergency like a major disaster, Tsunami, earthquake or an extended power outage.
See map HERE for details.
Emergency planners suggest that individuals and communities should be prepared to be self-sustaining for a minimum of 72 hours and even more than a week, to deal with the circumstances and the isolation that could result from such events.
Experience has identified neighbours helping neighbours in a coordinated, pre-organized manner, as a crucial first step in any emergency and, an important time saver during the early stages of an emergency period.
A comprehensive EAP Manual was prepared and has been updated.
The Craig Bay EAP program has been recognized by Emergency Management BC, Oceanside Emergency Management and Vancouver's well-respected North Shore Emergency Management as a model and a leading example of a community-based emergency response support program.
Where?
The EAP is a program developed by residents in Craig Bay Estates for our community and its' residents.
The Beach Club is and will be its central administration, communications, resource and control centre.
At the core of EAP are the Craig Bay volunteers who have stepped forward to fulfill a long list of roles and responsibilities.
An emergency generator has been installed at the Beach Club to ensure it can serve as our community's central hub and a self-sustaining source of electrical power for emergency uses and communications purposes. It has propane reserves to operate for approximately a week.
The generator will also allow the Beach Club to serve as a haven for residents needing heat, light and power during emergencies and extended power outages.
Craig Bay residents with medical training have volunteered to be available at the Beach Club to provide limited emergency services (expect band aids and bandages not surgery)
How?
The EAP process and the emergency plans were established a number of years ago and have evolved over time. Awareness efforts, education, resident checklists and some volunteer training have all been put in place.
A community wide response plan, some emergency response equipment, medical supplies and services, a volunteer contingent, and some in-place community resources have all been identified, sourced and established.
The whole community has been organized into neighbourhood units or blocks of about 15 residences. During an emergency EAP Block Captains and Co Captains will report on the status of residents, building damage issues and street blockage on their block. View Block Organization HERE.
When?
The Community Lands Committee (CLC) in cooperation with EAP members will define the circumstances and activate the EAP team and its plan.
Execution of EAP's plan and decisions related to the use and allocation of EAP resources will be the responsibility of the EAP team.
Homeowner's Responsibilities/Connections:
Homeowners should make efforts to educate themselves and be prepared for personal and family self sufficiency for at least 72 hours. EAP is not stockpiling food, water and personal medicines or related emergency supplies. Those are homeowner responsibilities.
Emergency checklists and pre and post suggestions are offered as suggestions, beginning on Page 8 of the full EAP Manual.
Additional information is available to help residents educate themselves and prepare their homes and families to deal with the personal, family and pet requirements that may be a consequence of a community-wide emergency.
Connect yourself and your residence to the EAP process by ensuring you are in touch with your Block Captain or Co Captain. EAP suggests that you prepare an up-to-date EAP Resident Emergency Contact Form and complete a Resource Form. Drop off your completed forms at the Beach Club for inclusion in the EAP Master file.
NOTE: Completion of the forms is entirely voluntary but is the best way EAP and the community has of having some knowledge and record of your circumstances should that information be necessary during an EAP/CLC designated emergency:
iii. Craig Bay Block Map
Block Captains and Co Captains contact information is available through the Beach Club Coordinator.
Complete EAP Manual and Checklists
Current Craig Bay EAP Manual including forms and checklists.
Emergency Number
Fire; Police; Ambulance; Fortis Gas Leaks; Downed Power Lines 911
Emergency Phone Numbers
Air or Marine Emergency 1-800-567-5111
BC Hydro 1-888-769-3766
City of Parksville (after hours emergency) 250-248-6144
Earthquakes, Flood, Dangerous Goods Spill, Tsunami 1-800-663-3456
Telus Telephone 250-310-2255
Fortis Gas (gas odours/leaks) 1-800-663-9911
Non Emergency Contact Numbers
City of Parksville Office (General Enquiries) 250-248-6144
Craig Bay Beach Club (during office hours) 250-951-0149
Proline Strata Management (during office hours) 1-250-754-6440
Volunteers Needed
The EAP program is based entirely on volunteers. It relies on the commitment, skills and willing participation of Craig Bay residents.
Volunteers are needed to help our community prepare for an emergency or disaster that all of us hope, never happens.
EAP is especially interested in adding people to our teams with specialized skills and experience in Medicine, Communications and Engineering.
If you are interested please contact one of the EAP Committee members (link to Committee Member contacts) or through the Craig Bay Beach Club Coordinator.
Links
Beyond the information in the EAP materials there are virtually countless other sources and links related to Earthquake and Tsunami issues and warnings, weather and emergency preparedness should you chose to search them.
Voyent Alert …. Check out and register for the new emergency notification system for Parksville Qualicum Beach https://register.voyent-alert.com.
Below is a list of just a few sites:
EAP Resident Emergency Contact and Resources Form
Please print out and submit completed double sided form through Beach Club Coordinator.
• Resident Information, Emergency Contact and Skills and Resources