LET'S GET THIS FUNDRAISER STARTED!
DATE:    THURSDAY, OCTOBER 1 – THAT'S TOMORROW FOLKS!
TIME:    10:00am – 12:00pm
PLACE:  FRONT ENTRANCE TO CRAIG BAY BEACH CLUB ON CAPE COD DRIVE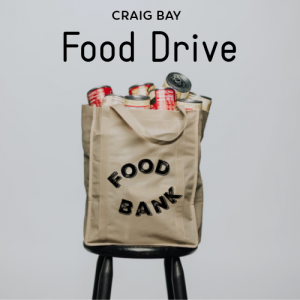 This will be the most action the clubhouse has seen in months!! Look for the easel with the colourful balloons – Bill Webb has made us another fabulous poster to chart our success.  A Food Drive committee member will be there with a tote in which to place your food donation, and a box to place your cash donation. All donations over $10 will receive a tax receipt.
PLEASE MAKE CHEQUES PAYABLE TO: MT ARROWSMITH SALVATION ARMY
EMPTY SHELVES NEED FOLLOWING:
Kraft Dinner
Pasta in general
Pasta sauce
Pork and Beans, Kidney beans
Canned Pineapple
The collection will continue every Tuesday and Thursday from 10:00am – 12:00pm until November 15th.