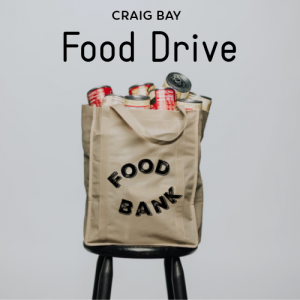 "Do a little bit of good where you are; it's those little bits of good put together that overwhelm the world"
Desmond Tutu
I saw this quote last year and immediately thought of how our Craig Bay Community comes together every fall to help The Salvation Army provide support to those in need in the Oceanside area. We may not be overwhelming the world, but we certainly overwhelmed Major Hamelin last November with our yearly donation.
Our 6 week  2021 Fall Food Drive ended with a huge donation of cash and groceries:
$58,614  and 3,676 pounds of groceries
Once again, we had a great "tee off" to our 2022 drive with the proceeds of the Craig Bay Golf Event. Thank you, Dave Montgomery and committee, for putting together a fun community event.
Thank you, residents, for participating in the event and purchasing 50/50 tickets.
We are starting out our drive with $2,150!!
COMING SOON:  FALL FOOD DRIVE 2022!
As we have done for the last 2 years, we will be stationed at the upstairs clubhouse entrance, outside,  2 days a week for 6 weeks. We so enjoy talking to residents and thanking them in person.
Drop off days will be Tuesday and Thursday from 10:00 – 12:00.
We will commence the drive on Tuesday, Oct 4, 2022 and our last day of collecting will be Thursday, November 10, 2022.
Over the next few weeks, I will be keeping everyone apprised of items that are needed at the Food Bank and how our donations are being spent in our community. All proceeds to Mt Arrowsmith Salvation Army STAY in our community and all cash donations over $10 will receive a tax receipt.
Snowbirds – if you are heading out to seek warmer climes – please come see us before you leave, or leave your donation with Allison at the office!  We will send you on your way with gratitude and well wishes!
Respectfully submitted,
Penny Rutherford
Craig Bay Fall Food Drive