PICK UP A BAG – PACK UP A BAG – BOX THE BAG
Our local Salvation Army Food Bank has empty shelves – our help is sorely needed!
Leftover turkey is great for a day or two, but then we desire something different – we open the fridge or head to the grocery store – so easy! Not so much for 600 qualified clients that are only allowed to shop once a month to supplement their grocery needs. The Salvation Army is all about a "Helping Hand" not a "Hand Out" – so this is not a fun shopping experience for the clients – it is a help to keep something in the fridge or cupboard to feed their family.
Committee members paid a visit to the Food Bank this week and saw for themselves just how low on groceries the shelves get by this time of the year, and how much the donations from the Parksville Volunteer Fire Department Food Drive are appreciated. A chat with Linda, the Food Bank Coordinator, revealed that not only do full shelves feed local families, the bank also supplies food to school breakfast programs, culinary arts programs, and the soup kitchen.
So, please, take that empty brown bag to the grocery store with you and return it to the donation box with everyday items that we take for granted will be on our shelves. Your cash donation will really help too – those dollars go a long way – Linda is a bargain hunter and gets great deals from our local stores. All cash donations will receive a tax receipt. Please make cheques payable to The Salvation Army.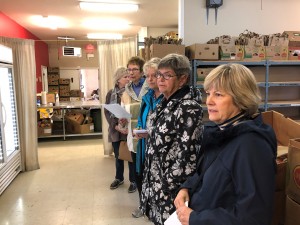 ONE MONTH TILL GIVE AWAY DAY – SUNDAY NOVEMBER 17th AT 9:45 AM
On another note – if you have time on your hands and are looking for another way to give back, the Food Bank would sure appreciate some helping hands at the site. 3-4 hours a week on your time schedule would really be appreciated. Contact Linda at 250-248-8793 for more information.
Submitted by Penny Rutherford